CCHR STOPS AT NOTHING TO END PSYCH ABUSE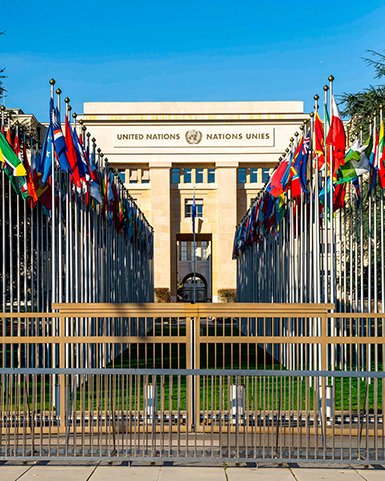 CCHR has reached out to the United Nations to stop coercive psychiatric practices.
Throughout the years, CCHR has reached out to the world's highest ethics body, the United Nations, when national governments won't take sufficient action. This includes in 2010 and 2012, when CCHR New Zealand reported to the United Nations Committee Against Torture details of violations of human rights at Lake Alice Hospital in New Zealand. ECT and other coercive psychiatric techniques had been used to punish children. The UN responded by directing the New Zealand government to implement systems to prevent psychiatric abuses in the future.
CCHR notified the UN Committee on the Rights of the Child (UNCRC), warning about the massive prescribing of psychotropic drugs to children in 14 countries. UNCRC responded with hearings on the increasing rate of children labeled with Attention Deficit Hyperactivity Disorder (ADHD) and drugged with psychostimulants. It recommended establishment of a system for "monitoring of the excessive use of psychostimulants to children."
CCHR's decades of exposing psychiatric treatment as torture was vindicated by a 2013 UN Rapporteur on Torture report that condemned coercive shock treatment and called upon states to "impose an absolute ban on all forced and non-consensual medical interventions against persons with disabilities, including the non-consensual administration of psychosurgery, electroshock and mind-altering drugs."
---
WE REALLY WANT TO

hear

FROM YOU
CCHR works with government officials, lawyers, NGOs and more. Here is what some of them have to say:
CALIFORNIA STATE SENATOR, USA
"I proudly present this proclamation in honor of your 50th anniversary. Your commitment to helping enact laws protecting individuals from abusive or coercive practices and restore basic inalienable human rights to the field of mental health is worthy of recognition and we salute you."
INDONESIA AMBASSADOR, AUSTRALIA
"I commend and congratulate CCHR for producing the informative and useful statistical research and documentary movie to increase public awareness on the importance of understanding the psychiatric drug risks. I believe we share the mutual concern of the dangerous side effects of psychiatric drugs which need to be addressed appropriately through public awareness campaigns."
DIRECTOR, ABLECHILD, USA
"AbleChild is honored to be on the battlefield today with an organization that has never given up, continues to educate the public and helps with legislation to protect parental rights. CCHR saves lives! We bear direct witness to CCHR's success!"
MEMBER OF PARLIAMENT, SWITZERLAND
"I have known Citizens Commission on Human Rights for many years. Through the well-researched facts contained in their informational material, I got an insight into the dubious business of psychiatry. This gave me an insight into their influence on overdrugging with psychiatric drugs, such as Ritalin, and I was able to use this in my work as a member of the parliament."
PRESIDENT, NEW YORK CITY HOUSING AUTHORITY, NAACP, USA
"This is bestowed 'in recognition of outstanding service in the field of exposing mental health abuse. The Citizens Commission on Human Rights (CCHR) is a true leader in the nation.'"
---
FACTS
50 YEARS—THE STATS
For 50 years CCHR has brought psychiatry under the law and defended human rights. Here are the stats.
50
YEARS
of protecting the rights of people in the field of mental health
188
LAWS
passed that protect against psychiatric abuse
$1.4 billion
PAID OUT
in psychiatric criminal and civil fines
170
PSYCHIATRISTS
and psychologists disciplined for abuses or convicted of crimes every year
3,923
PSYCHIATRIC FACILITIES
shut down for abusive and sometimes deadly practices
---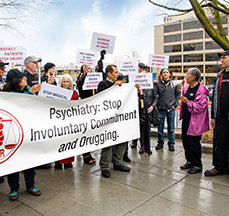 PUT AN END TO THE ABUSE
As a nonprofit mental health watchdog, CCHR relies on memberships and donations to carry out its mission to eradicate psychiatric violations of human rights and clean up the field of mental health. To become part of the world's largest movement for mental health change, join the group that has helped enact more than 180 laws protecting citizens from abusive psychiatric practices.