CCHR OPENS EYES IN NEVADA TO PSYCH ABUSE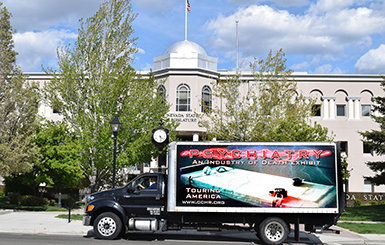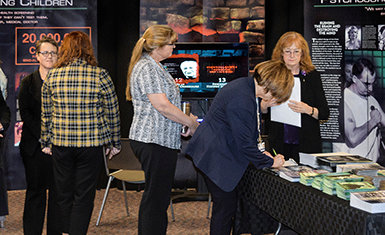 Exhibit in the state capitol shines the light of truth on harmful psychiatric practices.
Nevada state legislators have many issues to grapple with as they contemplate hundreds of bills each year for their yea or nay. This year included bills to allow more freedom for school counselors and psychologists to deliver more mental and behavioral health services to pupils in schools.
However, the bills don't take into account the violence proven to be induced by many psychiatric drugs that are commonly prescribed as part of those health services. Violence that seems to be ever increasing in schools parallels the increase in mental and behavioral health services in schools.
And considering Stephen Paddock, the Las Vegas shooter who killed 58 people in 2017, was on Valium, there is plenty of reason to raise the alarm in Nevada.
Another area of primary concern in reducing violence and suicide is electroconvulsive therapy (ECT), which can lead to fear, anxiety and confusion as well as hallucinations, among other "side effects."
To raise awareness of these issues and others in the field of mental health, CCHR brought its traveling exhibit, Psychiatry: An Industry of Death, directly to the Nevada State Capitol Building in Carson City during the legislature's 80th session.
Appropriately, three Nevada state legislators were on hand to open the exhibit, while over the two days the exhibit was on display, 150 lawmakers as well as their aides and lobbyists toured and saw the truth of harm done in the guise of "help."
---
WE REALLY WANT TO

hear

FROM YOU
Those who have visited the CCHR traveling exhibits around the world share their personal stories, tragedies and realizations.
GOVERNMENT WORKER, ARIZONA, USA
"I needed information as my children's doctor wants to put them on psych drugs for ADHD. I am looking for a natural direction. I am grateful for your exhibit which confirmed what I thought about psych drugs."
SCHOOL HEADMASTER, JAPAN
"So many children are labeled as having developmental disorders and are drugged with psychiatric drugs. Such children can be improved with appropriate care and environment. We must save children from psychiatric drugs."
HOLOCAUST SURVIVOR & CHAIRWOMAN, ASSOCIATION OF JEWISH WOMEN IN DRESDEN, GERMANY
"Until recently, I didn't put the tragic fate of my family into the context of what was shown in the exhibit. It was concealed in Eastern and Western Germany that the killing machinery of the Nazis had its roots in psychiatric hereditary research and that this provided the pseudoscientific reasoning for the extermination of the so-called 'life unworthy of living.'"
NURSE, BERLIN CHARITÉ HOSPITAL, GERMANY
"Unscrupulous psychiatrists sent my child to his death. Traumatized by a brutal assault, my son was looking for help in an institution. He stayed in the psychiatric hospital for only 22 hours, but it destroyed his life. He went there voluntarily, but was restrained for 9.5 hours and stuffed with psych drugs against his will. I insisted that he be immediately released, but he was still under heavy psychotropic medication, and while in this condition he took a walk outside and somehow ended up on rails and was hit by a regional high-speed train. He died after enforced treatment in the psych hospital. Unfortunately I had to experience myself what CCHR exposes—psychiatry: death instead of help."
---
FACTS
LOOKING BACK OVER THE YEAR
The last year brought expansion and further reach of CCHR's message. Here are the stats:
502,022
BOOKLETS
distributed exposing the truth behind abuses in the field of mental health
118
COUNTRIES
from which orders were placed for CCHR materials
157
MILLION
were reached through media exposing the true source of mental health abuse
20,920
PEOPLE
toured CCHR's Psychiatry: An Industry of Death Museum in Hollywood, California, this year
1,853
EVENTS
against psychiatric abuse were held to give voice to the voiceless
---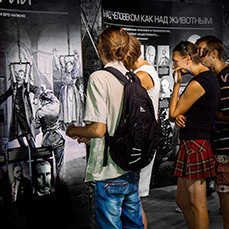 END PSYCHIATRIC ABUSE
As a nonprofit mental health watchdog, CCHR relies on memberships and donations to carry out its mission to eradicate psychiatric violations of human rights and clean up the field of mental health. To become part of the world's largest movement for mental health change, join the group that has helped enact more than 180 laws protecting citizens from abusive psychiatric practices.